.
.
tapissed entries
,
Oct 20 2007
HANSEL AND GRETHEL
paragraph 6
,
1. "Ah, father," said Hansel, "I am looking at my white cat sitting upon the roof of the house,
2. and trying to say good-bye." "You simpleton!" said the wife,
3. "that is not a cat; it is only the sun shining on the white chimney."
4. But in reality Hansel was not looking at a cat; but every time he stopped,
5. he dropped a pebble out of his pocket upon the path.

NOTES:
In today's paragraph, there is a liberal use of the progressive form of verbs (-ing) in both the present and past tense. The progressive marker is simply stuck onto the end of the verb weather it be in the present, past or future. I have written the progressive forms with red pencil. In line 4 the progressive past is also in the negative form. In line 2, the progressive marker is incorporated into the irregular verb 'try'.
.
.
Oct 19 2007
HANSEL AND GRETHEL
paragraph 5
,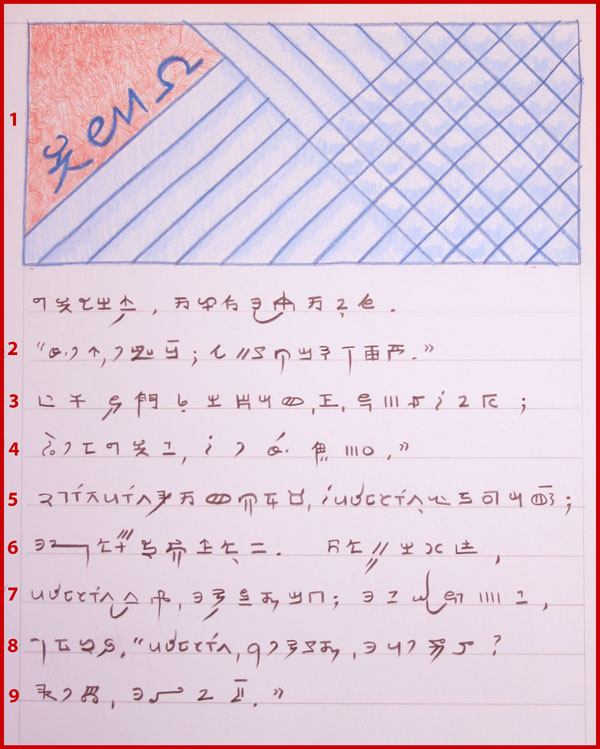 1. The next morning, before the sun arose, the wife went and awoke the two children.
2. "Get up, you lazy things; we are going into the forest to chop wood."
3. Then she gave them each a piece of bread, saying, "There is something for your dinner;
4. do not eat it before the time, for you will get nothing else."
5. Grethel took the bread in her apron, for Hansel's pocket was full of pebbles;
6. and so they all set out upon their way. When they had gone a little distance,
7. Hansel stood still, and peeped back at the house; and this he repeated several times,
8. till his father said, "Hansel, what are you peeping at, and why do you lag behind?
9. Take care, and remember your legs."

.
.
Oct 18 2007
HANSEL AND GRETHEL
paragraph 4
,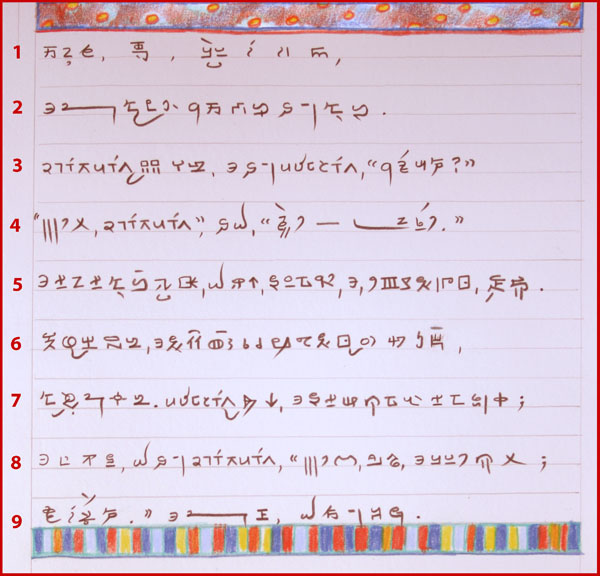 1. The two children, however, had not gone to sleep for very hunger,
2. and so they overheard what the stepmother said to their father.
3. Grethel wept bitterly, and said to Hansel, "What will become of us?"
4. "Be quiet, Grethel," said he; "do not cry— I will soon help you."
5. And as soon as their parents had fallen asleep, he got up, put on his coat, and, unbarring the back door, slipped out.
6. The moon shone brilliantly, and the white pebbles which lay before the door seemed like silver pieces,
7. they glittered so brightly. Hansel stooped down, and put as many into his pocket as it would hold;
8. and then going back, he said to Grethel, "Be comforted, dear sister, and sleep in peace;
9. God will not forsake us." And so saying, he went to bed again.
,
,
Oct 17 2007
HANSEL AND GRETHEL
paragraph 3
,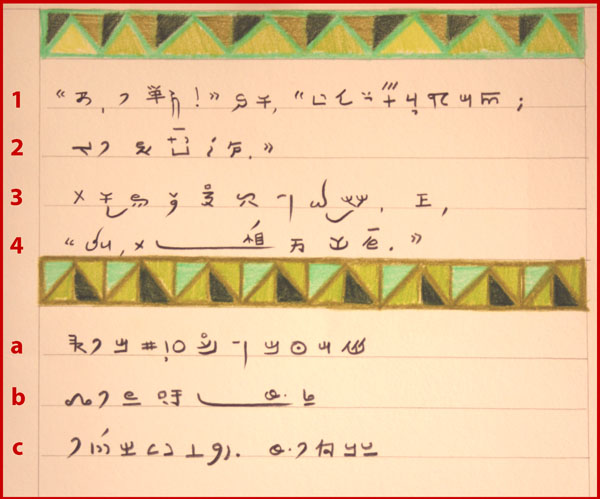 1. "Oh, you simpleton!" said she, "then we must all four die of hunger;
2. you had better plane the coffins for us."
3. But she left him no peace till he consented, saying,
4. "Ah, but I shall regret the poor children."

MINI LESSON 13
(the imperative)

To make a command in Tapissary, follow the verb by the word 'you'. Here are some examples:

a) Take (take you) the #10 bus to the center of town.
b) Stay (stay you) here while I get help.
c) You will have a big day tomorrow. Get (get you) some sleep.

NOTE: In line 2, I translated 'you had better plane the coffins for us' as the direct command it conveys: 'plane the coffins for us'. A plane is a wood working tool for smoothing the surfaces of the wood.
,
,
Oct 16 2007
HANSEL AND GRETHEL
paragraph 2
,
1 "Know, then, my husband," answered she,
2. "we will lead them away, quite early in the morning, into the thickest part of the wood,
3. and there make them a fire, and give them each a little piece of bread; then we will go to our work,
4. and leave them alone, so they will not find the way home again, and we shall be freed from them."
5. "No, wife," replied he, "that I can never do.
6. How can you bring your heart to leave my children all alone in the wood,
7. for the wild beasts will soon come and tear them to pieces?"
MINI LESSON 12
(the simple future)
A slash traveling up and to the right is placed over the verb to show the future. Like English, the word 'will' preceding the verb is also acceptable. Here are some samples:
a) I will not eat the pizza
b) The bread will become stale within a few days
c) We will lead them to the woods
d) The sun will soon set
e) His wife will feed the dogs

NOTES:
The command form as seen in the first word of the new text, KNOW, is formed by placing the word 'you' after it. It's as easy as that. Here are some more examples: Go to the store = go you to the store. Come tonight at 8 = come you tonight at 8, etc..
Note in line 4 and in line a, that the future is also in the negative.
.
.
Oct 15 2007
HANSEL AND GRETHEL
paragraph 1
,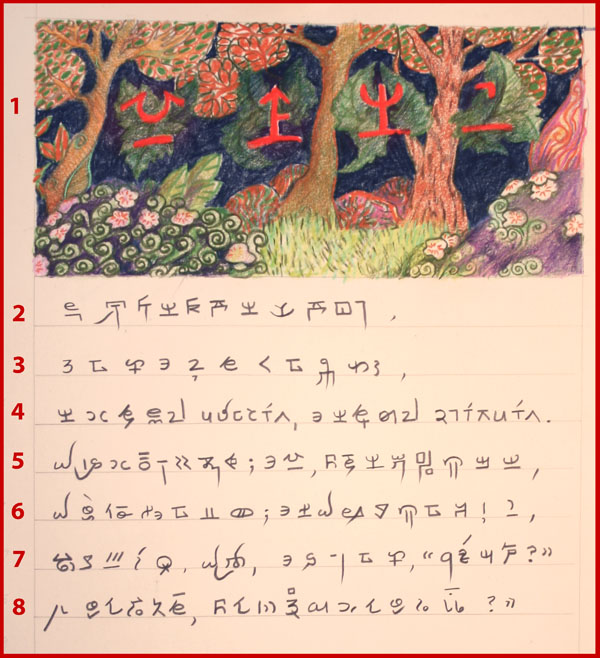 1. Once upon a time,
2. there dwelt near a large wood a poor woodcutter,
3. with his wife and two children by his former marriage,
4. a little boy called Hansel, and a girl named Grethel.
5. He had little enough to break or bite; and once, when there was a great famine in the land,
6. he could not procure even his daily bread; and as he lay thinking in his bed one evening,
7. rolling about for trouble, he sighed, and said to his wife, "What will become of us?
8. How can we feed our children, when we have no more than we can eat ourselves?"
NOTES:
In line 2, 'woodcutter' is made up of 3 çelloglyphs (wood + cut + agent marker)
In line 4, the names for Hansel and Grethel are spelled with the alphabet. Note also that the verbs 'called' and 'named' are both followed by the passive marker.
In line 5, the word 'there was' is contained in one çelloglyph.
In line 7, the progressive -ing follows the verb 'roll'. The future tense is made by a slash placed above the verb. If you remember, the negative is also a slash, but at the opposite angle (see yesterday's entry).
.
.
Oct 14 2007
MINI LESSON 11
(negative)
.
You may have noticed in yesterday's lesson how incredibly easy it is to form the past tense in Tapissary. The negative is just as straight forward. By placing a slash above the verb, you negate it. Also, the helping verb 'do' which is used in English to negate all verbs is dropped in Tapissary. For instance, 'I do not have it' is simply 'I have not it' in Tapissary. The same applies in the past tense with a negative verb. 'You did not try hard enough' becomes 'You tried not hard enough. Here are some sentences in the negative:

.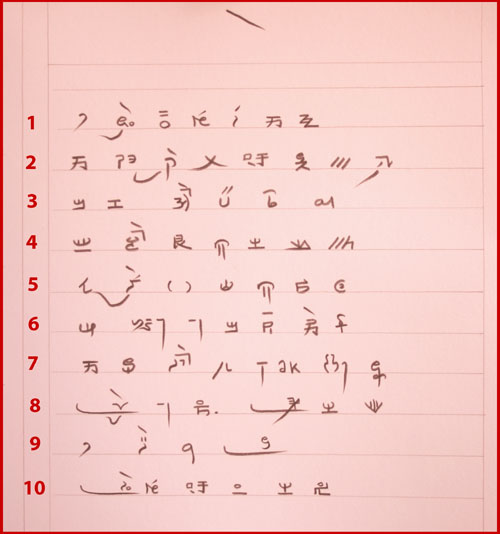 1. You didn't buy (bought not) enough cheese for the pizza.
2. The bird didn't keep (kept not) quiet while the rain fell.
3. The factory doesn't produce (produces not) candy any more.
4. Grass doesn't grow (grows not) well in a desert climate.
5. We didn't learn (learned not) much today in history class.
6. Many explorers to the Poles didn't return (returned not) alive.
7. The cook doesn't know (knows not) how to prepare Indian cuisine.
8. I didn't fly (flew not) to Japan. I took a ship.
9. You don't understand (understand not) what I mean.
10. I don't eat (eat not) cheese while on a diet.

.
.
Oct 13 2007
MINI LESSON 10
(the past tense)
h
In this lesson, I will describe how to form the simple past tense. I eat > I ate, you see > you saw, etc... Other forms such as 'I had been eating' may be examined later. [By the way, those forms are simpler to construct than their English counterparts]. The past tense marker is a diagonal slash under the verb. It can take a gentle curve like a scimitar sword or be straight as an arrow. It's an aesthetic preference. If it is curved, the end of its tail may latch onto a neighboring çelloglyph. There are about 20 verbs with an irregular past tense. They have no slash under them since their form changes internally. Here are some phrases in the past tense:

.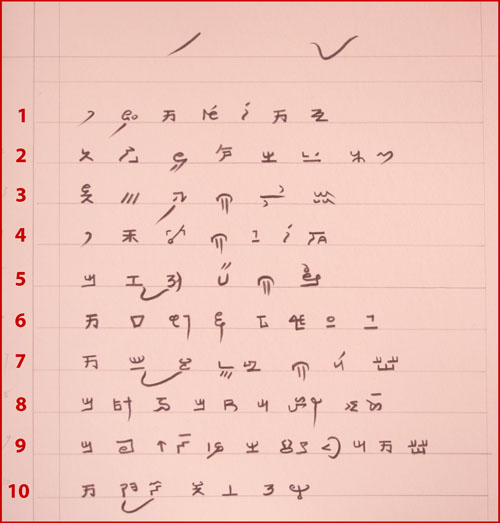 1. You bought the cheese for the pizza.
2. Our teacher gave (irregular) us a difficult assignment.
3. The rain fell in calm rhythm.
4. You came (irregular) just in time for dessert.
5. The factory produced candy in quantity.
6. The trash collector started (irregular) his work on time.
7. The grass grew slowly in that meadow.
8. The war was (irregular) the result of religious tensions.
9. The room upstairs had (irregular) an amazing view of the meadow.
10. The bird greeted the day with song.

.
.