Oct 22, 2009
"Toüci n'Aléyyé Rat iñ beñ Xyexxete"
(Parrot and Alley Rat in a Hurry)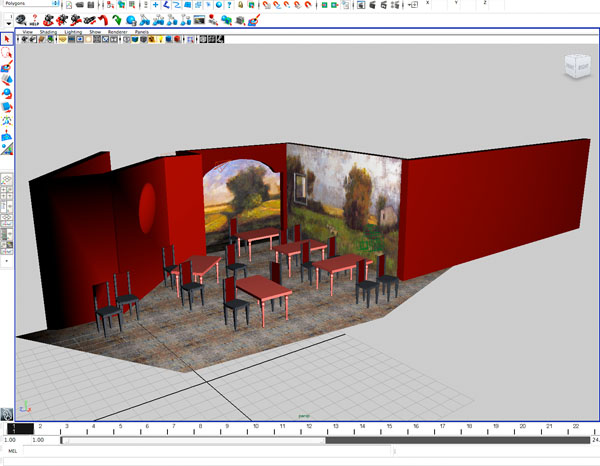 I'm nearly half way into my class on 3d sculpting using Maya software. Learning how to animate will not be addressed until a future semester. However, at this time, I can still move the scene around and photograph it at different angles to produce panning. Better than nothing.

I have held up episode 10, having wanted to first learn certain effects on Maya which I could apply to the scenes. In the image you see here, I have sculpted the chairs and tables, the walls, the floor... well, everything from scratch. I am in the process of copying in oil paint 2 landscapes by George Inness. They are not finished yet, but far enough along that I added photos of my copies onto the walls of the room. I may alter the space yet further, but at present, the room is a restaurant interior which is one of the scenes for the upcoming story of Parrot and Alley Rat
.
In addition to the visuals, I am making progress with the alteration of Tapissary's grammar. Practicing the aspects over a broad period of time is essential to determine the feasibility of the new grammar. There is much tweaking to be done as experience instructs.

Originally, there was to be a new episode each two weeks. But I determined that it would be better to place my attention on quality at the expense of quantity. Most probably the podcast will be slow in production, as I want each piece to be well worked out.
.......
Aug 22, 2009
Two events that will effect the podcast as well as Tapissary Grammar
TAPISSED GRAMMAR:
A week ago, I had a language altering conversation with a polyglot named Maria. She asked many grammar related questions about Tapissary. Our conversation lasted about 45 minutes. She zeroed in on the cyclic grammar. Why had it only been used as a sideline of Tapissary rather than being at its core. Maria asked what would happen were I to keep the simple present, simple past and simple future tenses only, and substitute all the other verb tenses with my cyclic grammar which already involve aspectual time. This would bring the cyclic grammar to the forefront, 20 years in the waiting. Then I decided to go even further during the week, and dispense of the simple past and simple future as well... and eventually of the simple present. What I discovered while playing around with this emerging system was the role aspects would take. They had been on the sidelines in my language for two decades, now they are becoming the monopolistic base. With that intent, I discovered something so exciting that I really think it's one of the most major breakthroughs in Tapissary's 31 year existence: 'these aspects come from an adjectival base'. This means that the world is seen as being descriptive, a potential scape composed of adjectives which depend on aspect to sculpt their mass and movement. In other words, nouns are flat and do not assume 'rounded' perspective until the aspects turn them 'on'. Until that time, they remain adjectives. Also of note, the verb in its true sense isn't present in my language. This is a huge change since until now, the verb had been far more evident in Tapissary than in English. With the new system emerging, the verb remains incorporated into the mass scape of a phrase as a descriptive element: similar to an adverb. Motion, cause, state, etc, now belong to the essence of aspect. Therefore a verb is anatomically a part of the phrasal sculpture being rendered by the aspects. For example, something in motion is part of a whole. Let's say you throw a ball to a dog. The throwing unites your hand, the ball, and the dog's mouth in a single description. The verb, which is an adjective in Tapissary, is that description which explains the relationship of the parts in that moment. You might say: in a throwing manner, from you, a ball, and a receptive dog. The ball and the dog are pulled up from of the adjectival scape by way of the aspects. In this way, they are formed into true nouns. Were this not to be performed, and the ball and dog were to remain adjectival, then they slip into the 6th stage of a cycle which is the void. It's like saying the dog and ball are not rendered into the present, and therefore nonexistent.
TAPISSARY PODCAST:
Tapissary Talk has been appearing twice a month. I have decided to focus more on the illustrated segments of the podcast, and for this, I recently enrolled in a school of visual effects. The upcoming class, beginning in October, is a 3 dimensional animation program called Maya. I hear it has a large learning curve, so it may be months before I can actually apply it to my podcast. I plan to post episodes on Tapissary Talk about once a month or once every two months. I'd rather spend time to develop each episode fully. In the meantime, I'm shooting for Sept 16 to post Episode 10, which will be illustrated in 2d, as the previous episodes. There is also a special feature in that episode. The first two sentences of the introduction will be read by two people, rather than myself. Until now, I have been the only one who speaks in Tapissary. Many thanks to Maria and Melanie for not only volunteering time to practice reading their lines, but for the naturalness in the flow of the language that they attained. It was exciting for me to actually hear someone else speaking Tapissary! The story due on Sept 16 is a simple little story I wrote about a rat and a parrot: "Touci n'Aléyyé Rat iñ beñ Xyexxete". (Parrot and Alley Rat in a Hurry). update added - Sept 16, 2009: Events have prevented me from getting the film finished by today. I will still work on it, but there is no specific due date. It depends on time availability.
A NOTE ABOUT PODCASTS: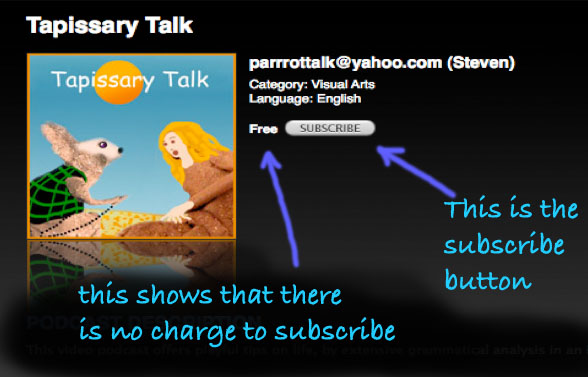 A podcast is like a radio show, but on the computer. Some of them, such as Tapissary Talk are also visual. They are called Video Podcasts, or Vodcasts for short. You may notice if you have iTunes, that podcasts often times have a subscribe button. In most cases, you will see that they are for free. This is the case with Tapissary Talk. It doesn't cost anything to subscribe to Tapissary Talk, and there is no obligation to keep it. You can unsubscribe in a click. The advantage of subscribing is that instead of having to keep checking when the next episode comes available, you are automatically alerted of it the day the episode appears. However, if you prefer not to subscribe, I'm planning to get a new episode out about once a month, so please check in either on iTunes for Tapissary Talk, or in my journal section on this website. I usually post films in this journal section that I make on YouTube for my visitors who aren't comfortable with the podcast format.
August 11 2009
Tapissary Talk Podcast: Episode 9: "Alice in Wonderland"
Episode 9 "The Queen's Croquet Ground, Part 2"
I finished the film a few days early.
It will be posted on the podcast on Aug 16.
This film continues a chapter from "Alice In Wonderland". Lewis Carroll's original English text is translated into the invented language of Tapissary. The glyphic script of that language has various forms. The style used here is read from right to left, and bottom to top. The phrases build up like a vine growing against a trellis. In the art style, a whole phrase is composed as a shape with accumulating layers rather than a taught linear string. This means that each phrase has a multitude of possible constructions. A writer must think in terms of balance, and work with the malleable glyphs for a pleasing composition. The style merges script with drawing, something that occurs in many calligraphic traditions world-wide.
...